Dana Herbert Interview
(Desserts by Dana)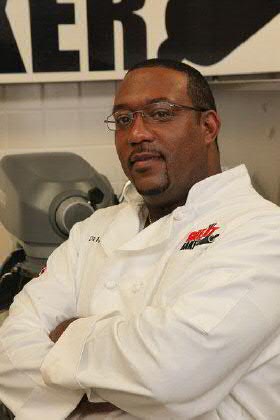 He is affectionately known as "The Sugar Daddy" because of his work with pulled and brown sugar and Delaware's king of cakes. As owner of Delaware's Desserts by Dana he's made cakes for The "A" list of the rich and famous including Oprah Winfrey and VP Joe Biden's wife Jill Biden.
His recipes have been featured in magazines such as Dessert Professional, American Cake Decorating, Catering Magazine, and Chef Magazine. We are talking about chef Dana Herbert.
Q - Chef Herbert, what did it mean to you to win season one of The Next Great Baker? I know there must have been some prize money involved, but, was the publicity worth it as well?
A - It definitely was. I don't think in some ways, you can really imagine when you're on this reality show and your just competing, doing what you love, I don't think you can imagine what comes along with it. So, the publicity was incredible for that cake guy in Delaware to have on national TV. You walk into places and people recognize you and all that good stuff.
Q - Where did this talent of yours come from? Were your parents in the business?
A - No. I guess you could say I was drawn to the art side of it. I went to culinary school and got a degree on the baking side at the end of that degree I found myself looking at the pastry kits. So, I said why not stay and get a degree in pastry? And, that's what I did. When I got out of school, I started desserts to keep my pastry skills up. A little at home business and it kind of grew and developed.
Q - You received a bachelor's degree in hotel, restaurant and institutional management from the University of Delaware. What did they teach you about the art of baking cakes there?
A - Well, there we didn't get into a whole lot of baking. We had two semesters that we had to do in upscale kitchens that was there on campus. But, the focus was more on the cooking side, the production side versus the baking. We only did a little bit there. So really it wasn't until I went to Johnson and Wales University that I really got into the baking part.
Q - With your degree from the University of Delaware, could you have gotten a job at say the Marriott hotel somewhere?
A - Oh, definitely. That's what I worked with when I got out of culinary school but I could have gotten into Marriott then, but I had this dream then I guess you would say of opening my own restaurant so I figured I better know a little more about what's going on in the back of the house, if I'm going to manage the front of the house. It just so happened I fell in love with the back of the house.
Q - Studying at Johnson and Wales must've been pretty tough. Not everyone makes it through to a degree.
A - It definitely is (tough) at Johnson and Wales you have people of all different ages in school and you find out pretty quickly, normally after that first semester who's serious and who's not.
Q - What is that a two or four-year college?
A - Really, it's up to you. There is a two-year degree and there is a four-year degree.
Q - And, you went for how long?
A - I did the four-year culinary and then I stayed and did a additional two-year in pastry.
Q - You've got 10 years of college?
A - If you look at it from a degree standpoint-yes. (Laughs).
Q - That's almost like studying to be a doctor!!
A - Yeah. My parents would always say, are you ever coming out? (Laughs).
Q - So now when you go home you must be expected to make all the meals.
A - When I go home I play amnesia. I didn't know what a kitchen is. My wife is always, you're so full of it. (Laughs). But, she can't get off either, because we met at culinary school. So, she can cook.
Q - Is she involved in your business?
A - On the front office side.
Q - Does she bake alongside you?
A - Only when we're getting our but kicked. (Laughs).
Q- What was it like to work with Buddy Valastro (of Carlos Bakery)?
A - It was pretty cool. His bakery is definitely 10 times bigger than mine is, but, it was cool to see something that big that runs like a machine. The other nice part is even though I won the show, he knew I had my own bakery. So theoretically I would be a competitor in terms of doing high end fancy cakes in the tri-state area and he still had no problem showing me what he did in the way he did it. I was definitely appreciative of that.
Q - How do famous people hear about your bakery? Word-of-mouth?
A - You know, I tried to figure that out all the time. We get some good celebs. We have like Oprah and Ice Cube, so that's always a good question. How are people just stumbling across it? If we knew the answer to that every time we knew where to put our marketing dollars 100% of the time. (Laughs) I think some of it is word-of-mouth, perhaps working with certain event planners I think helps. Event planners know who they need something with oomph and pop and wow! If they're good they know who to call to deliver what they need. I think in our case that's kind of how we've gotten some of the celebs that we have.
Q - Is there a down time in your business?
A - Your down times in a bakery are January and February. You'll get hit really hard for Valentine's Day, but, the next week will cool off. January and February are your slow months. December can be iffy too. It pops at like Christmas time, but, other than that unless you have some corporate holiday business it's kind of spotty.
Q - You have how many people working for you at your bakery?
A - Nine.
Q - Where would you like to see Desserts by Dana go? Do you have a business plan of expanding the bakery?
A - Well honestly were actually moving into a new space in April (2014) . Right now we don't have the retail but, will have a retail location in April, so I'm pretty excited about that. Then from there I see us embarking on different deals with grocery stores making our products available. I really only partner with grocery stores right now that are making their own product in-house so I know that the product will be fresh.
Q - How would that work?
A - They would turn to Dana Herbert and say, we would like to feature your desserts here! So, we would basically need to train their staff on how to make some of the desserts we make. We would train them on the recipe, how to make it. Then in turn they would make my recipes in-house.
Q - How do you maintain quality control?
A - You can't. That's why you pair with the right brands, take some time to feel them out, kind of shop them. We'll obviously have to have people that go in there and I guess you could say secret shop, to kind of check out the product, take a look at it. Its one thing when I stop in there, they know I'm coming. We have a deal with Shop-Rite like that right now. It's one thing to have myself in there. They know I'm coming. It's another thing to have someone just walk through and give their opinion. That's what we would do in that case.
Official website: dessertsbydana.com
© Gary James All Rights Reserved