Chrissy Rogers Interview
(Spinelli's Sauce Company)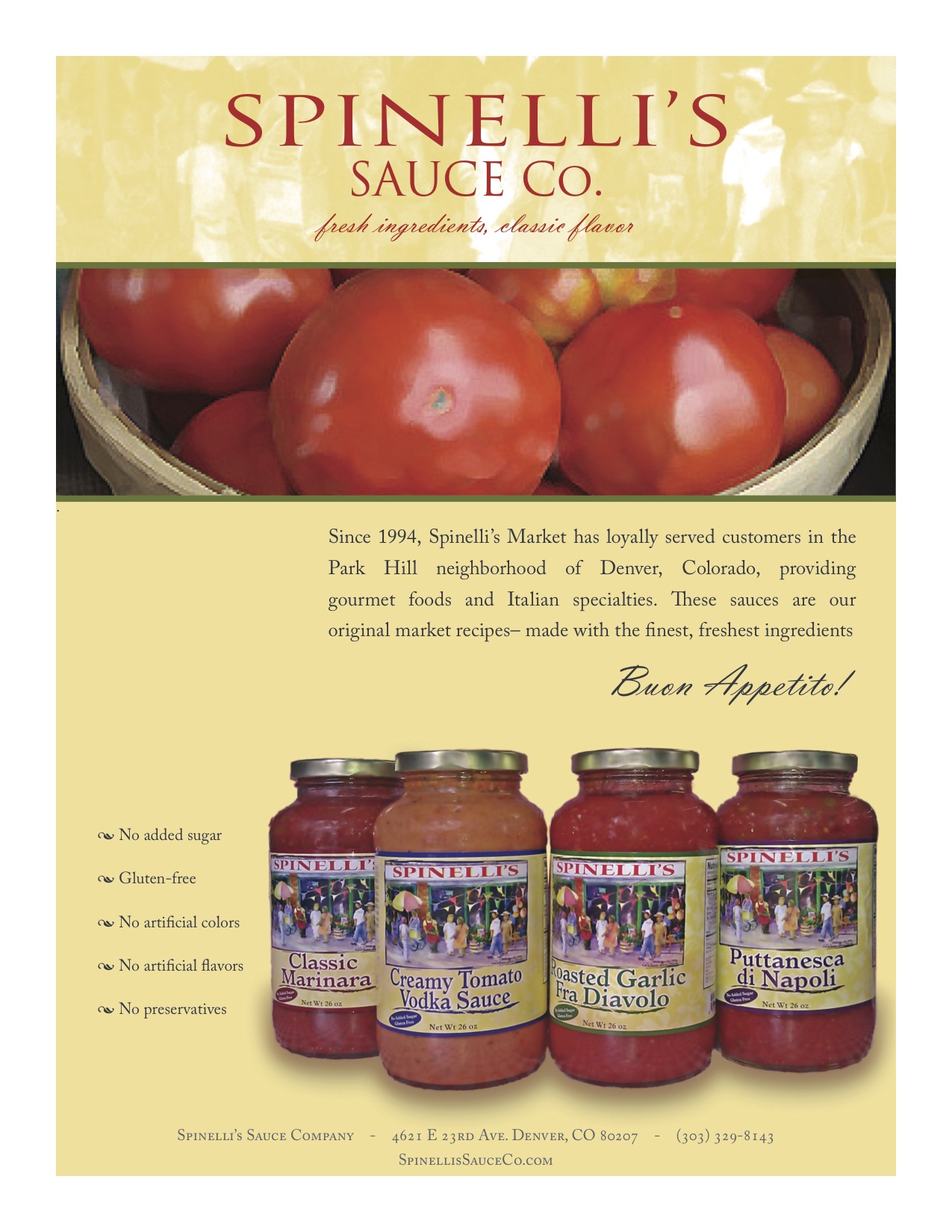 Denver, Colorado can now boast about some of the finest gourmet pasta sauce in the marketplace.
Since 1994, Spinelli's Market has been pleasing customers with their gourmet foods and Italian specialties. There sauces were so popular they decided to start bottling them.
And that's where Chrissy Rogers of Spinelli Sauce Company enters the picture.
Q - Before there was Spinelli's Sauce Company there was what? Spinelli's Restaurant?
A - There's a Spinelli's Market. Actually there still is a Spinelli's Market. It was started in a little neighborhood in Denver called Park Hill. It was started in 1994. It was a little mom-and-pop Italian grocery store run by Jerry and Mary Ellen Spinelli. Back in about 2000 I came aboard at the market. I'm a trained chef. They needed a chef but I could only work part time since I had a full-time job with Whole Foods, but, I just loved it there. It was just like the best job ever. I'd go in and make entrées that people took home. I did that and noticed that we were selling a lot of my sauces or our sauces out of little deli containers. So, I said to Jerry one day, Jerry, I think we should start a sauce company because people really love our sauces. He said, okay honey! I said, well alright. I'll figure it all out. So back in 2007 we bottled our first sauces of marinara and creamy tomato vodka sauce. Since then Jerry and Mary Ellen retired and they sold the market I think 2013. Back in the day when we were first starting with the sauces, they were so busy with the market, I just ran the sauce company. Now I pretty much run the sauce company solely. Jerry still has an ownership in the company but, like I said he's retired. Were in about 400 stores across Colorado and surrounding states now.
Q - Who came up with the idea of naming the sauces Spinelli's? You or the Spinelli's?
A - I said we have to call it Spinelli's, even though they were technically my recipes nobody's going to buy Rogers's pasta sauce, right? (Laughs)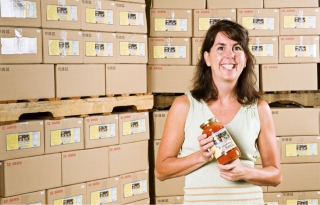 Q - I don't know about that. Do you in fact have to have an Italian name to sell pasta sauce?
A - Well, I don't know. I think it helps.
Q - What happens when the first person comes along with the more Italian name and puts out a pasta sauce?
A - Well then they call it Prego. (Laughs).
Q - What other states besides Colorado are you selling pasta sauce in?
A - Currently we sell in all of our surrounding states. So, New Mexico, Kansas, Utah, Wyoming. But we also are down in Texas and we are in Nevada now. Were hoping to sort of move Southwest and West first. So, add more states as we go.
Q - You're trying to get your sauces on grocery shelves in those states?
A - Correct.
Q - You do realize what you're up against don't you? Big supermarket chains bottled their own sauces and undercut gourmet pasta sauces in price. I would assume you're going to have a hard time competing with that.
A - Whole Foods and Kroger have their own private label and they sell it for $2-$3 a jar. Were sitting next to them on the shelf and were $6.99 a jar. We really don't try to compete with them, because our customer is more of a foodie type consumer were they care about flavor and the quality. Were all natural as well. We don't use any artificial colors or preservatives. The difference between our sauce and Prego or Ragu is the fresh ingredients we use. But mostly we use these amazing tomatoes that are so ripe and naturally sweet that we don't have to add any sugar to our sauces. Every single pasta sauce on the shelf if you look at the ingredients they add sugar and it's to balance out the acidity of the tomatoes. Our tomatoes are so sweet that if we added sugar the sauce would almost be too sweet. People are so health-conscious these days they're trying to avoid extra sugar and salt. These people who are health-conscious and really care about the taste of their food, they love our sauce. Here in Colorado we've had great success by demoing our product in the stores. So, will set up right at pasta sauce aislel and will offer samples of our product. Once customers taste the difference they don't even look at the price. But, it is hard to get shelf space and that's one of the challenges in expanding to other states. In Colorado people recognize us now. Were a staple on the shelf. The way we've kind of been able to break through is doing samples, telling our story, talking about the difference between our product and 99% of the other products on the shelf and getting the buyers to try it. I've had buyers tell me mine is the freshest tasting jar of pasta sauce they've ever tasted.
Q - Has anyone famous tasted your product?
A - Well, offhand the one person that kind of stands out in my head is our state governor John Hickenlooper. He and his family live in Park Hill and they are actually in the market a lot and they buy entrées and I'm sure our sauces. I know they use to buy dinner at the market every week. They're buying my dinners. They had our sauces. I would say their probably the most famous people that I can think of that have tried our sauces.
Q - I guess then that your goal is to make Spinelli sauce just as famous as Ragu or Prego.
A - Well, that would be wonderful. I would say more accurately at this point our goal is to be able to sell Spinelli sauce in every state in the country the East Coast to the West Coast, North, South, every state, whether it's in Whole Foods or Wegmans, but to have a presence in every state in the union.
Official website: spinellissauceco.com
© Gary James All Rights Reserved