David Slotnick Interview
(Carrol's Restaurants)
In the 1960s, one hamburger restaurant reigned supreme in Syracuse, New York.
That restaurant was Carrol's. Founded in 1960 by Herb Slotnick the prices included .15 cents for a hamburger, .15 cents for a shake and .10 cents for fries.
David Slotnick talked with us about the history of Carrol's restaurants, a restaurant his father started.
Q - David, as we talk, there are no more Carrol's restaurants are there? The last one was in Finland and that closed.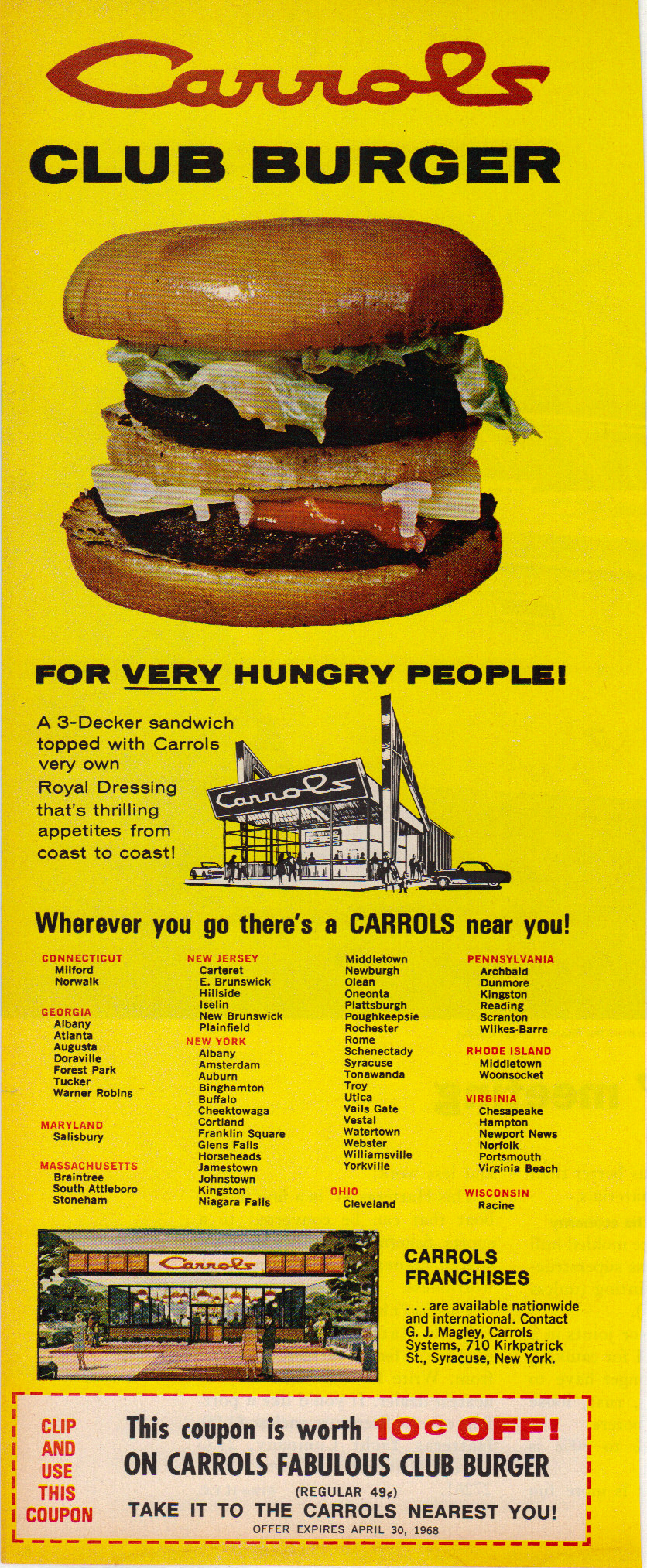 A - Yes. The name was sold to the Finnish consortium.
Q - So, Carrol's is over?
A - I don't know. People with the franchise rights, the rights to build Carrol's could go ahead and do it again, if they wanted.
Q - I see there is a resurgence in hamburgers, but with gourmet hamburgers. I'm not sure that's something Carrol's franchisee would get into or not.
A - I don't know. I consider the double whopper a pretty deluxe hamburger.
Q - Are you the Carrol's historian? Is that why your uncle Melvin referred me to you?
A - Mel was an attorney. He was a Justice Of The Peace in North Syracuse. He was an Assistant District Attorney and he was also Mayor of North Syracuse. His experience with Carol's was as its secretary not as a worker in the restaurant business or the theater business, or for that matter Jo-Ann's Nuthouse. All three divisions were at one time divisions of Carrol's
Q - Was Jo-Ann's Nuthouse in Syracuse?
A - It was in the Penn Can Mall. It was a convenient and lower-level marketing effort to distribute candies and nuts, unlike Godiva which dealt with premium chocolates, although we did have truffles. It was nice.
Q - Where was the first Carrol's? Was it on Erie Boulevard East?
A - No. The Marantz family actually owned Tastee-Freeze . They had a division called Carrol's, my father bought the rights for New York State. When the Marantz family failed to run Carrol's properly it entered into bankruptcy. My father proceeded to run 167 restaurants all Carrol's from I think 1958 to 1972 or 73 when we applied and got the Burger King franchise for our chain.
Q - I always thought Carrol's was born out of this restaurant Harvey's on Erie Boulevard East.
A - Mr. Marantz had a daughter named Carol and that's why he named the chain Carrol's.
Q - Was your father in the restaurant business prior to Carrol's?
A - it's a long story. It goes back to Kobayn where my great grandfather was a cohain. I don't know the whole story but, I think he helped the Jewish community there keep kosher. My grandmother and grandfather were kosher in their household. My grandfather met my grandmother when he was projectionist slashed usher at RKO Theaters in Syracuse. My grandmother's mother had a Nickelodeon in her dress shop and together they started their first theater in Herkimer New York, 1923. I have a picture of the marquee. A feature was maybe .20 cents. They sold hotdogs and popcorn, things like that. Later my grandfather got into Drive-In's. As you know, drive-ins sold pizza, french fries, popcorn, candies, all sorts of wieners and that was kosher too. We had a great following in the Drive-In's. It was my mother's insistence that my father enter the fast food business. Together they shopped the Red Barn, they shopped Carrol's, they shopped McDonald's and they settled on a Carrol's franchise for New York.
Q - In the early 1960s, you could open a Carrol's for how much money?
A - I was just 13 at the time, less than 13. My parents did not ingratiate me to the figures of accounting they were in the midst of, but, my grandfather at that time had several theaters and my extended family in New York owns theaters in Buffalo, Rochester, Utica and Canandaigua.
Q - That explains why Carrol's branched out into movie theaters, right?
A - That's right.
Q - Who designed the look of the Carrol's restaurants?
A - The initial design was part of Tastee-Freeze , but, as it morphed my mother and my father decided upon designs and hired people to do it. The last design of Carrol's was made by Chase Design. He came up with the logo for Carrol's which is the current logo for Carrol's.
Q - I ask only because I did an interview with the gentleman by the name of Art Bender. He was the first franchisee of the McDonald's Corporation. He was in the office one day when Ray Kroc walked in. When Ray Kroc saw the design for Carrol's, he hit the ceiling. He thought Carrol's had copied McDonald's.
A - I don't think so. Intellectual property would not intercede on the part of McDonald's to eliminate that designed for Carrol's. It was different. The colors were different. The designs were different.
Q - And McDonald's never did come after Carrol's for the design did they?
A - They couldn't. The intellectual property was not viable.
Q - Did Carrol's do a lot of advertising or was it pretty much word-of-mouth?
A - We had and advertising department and it was active. We did meal deals. We discount hamburgers. We'd have poodles in the query with the public on how many hamburgers could poodle eat, guess the weight of a steer. There were all kinds of promotions throughout the company in any one day in any one week, and any one month, any one year.
Q - Did any famous people passed through the doors of Carrol's?
A - I don't know. I'm not aware of that. Mostly they were people from Syracuse, Mayors, Legislators, Governors (of New York State)
Q - Did you work at any of the Carrol's restaurants?
A - I worked on Erie Boulevard, South Salina Street. I worked in the Carrol's on Marshall Street (Syracuse University area) for a while. It was a good saga.
Q - Where you in food preparation? Management? A supervisory position?
A - I worked the windows. I worked food preparation. I worked inventories. I worked management. Only for a short while did I do supervision in Carrol's, not Burger King, but, I did work in Burger King as a manager for a short time.
Q - Did Carrol's have too close? Couldn't upgrades have been made? Why go into Burger King?
A - There was a good reason. Burger King wanted to expand in the area we were in. Our groceries were getting squeezed. Our average unit gross was falling toward breakeven and sometimes below breakeven. We looked at Wendy's as an alternative and we looked at Burger King as an alternative. When push came to shove we decided that Burger King was the group we wanted to go with. Carrol's was no longer a viable, profitable entity that could exist without severe redress and a need for a complete overhaul. We weren't about to do that. We had viable management team. We had a viable marketing team and an average Burger King store grossed $300,000 to $400,000 more than the gross of a Carrol's store. They were more hospitable. Food was better, although we served kosher food for a while. That was interesting to. Burger King was a better answer in a trade up. We thought we could hold our resistance against the McDonald's and do well by it. And, that's proven to be true.
Official website: www.carrols.com
© Gary James All Rights Reserved