Kent Pietsch Interview
(Airshow Pilot)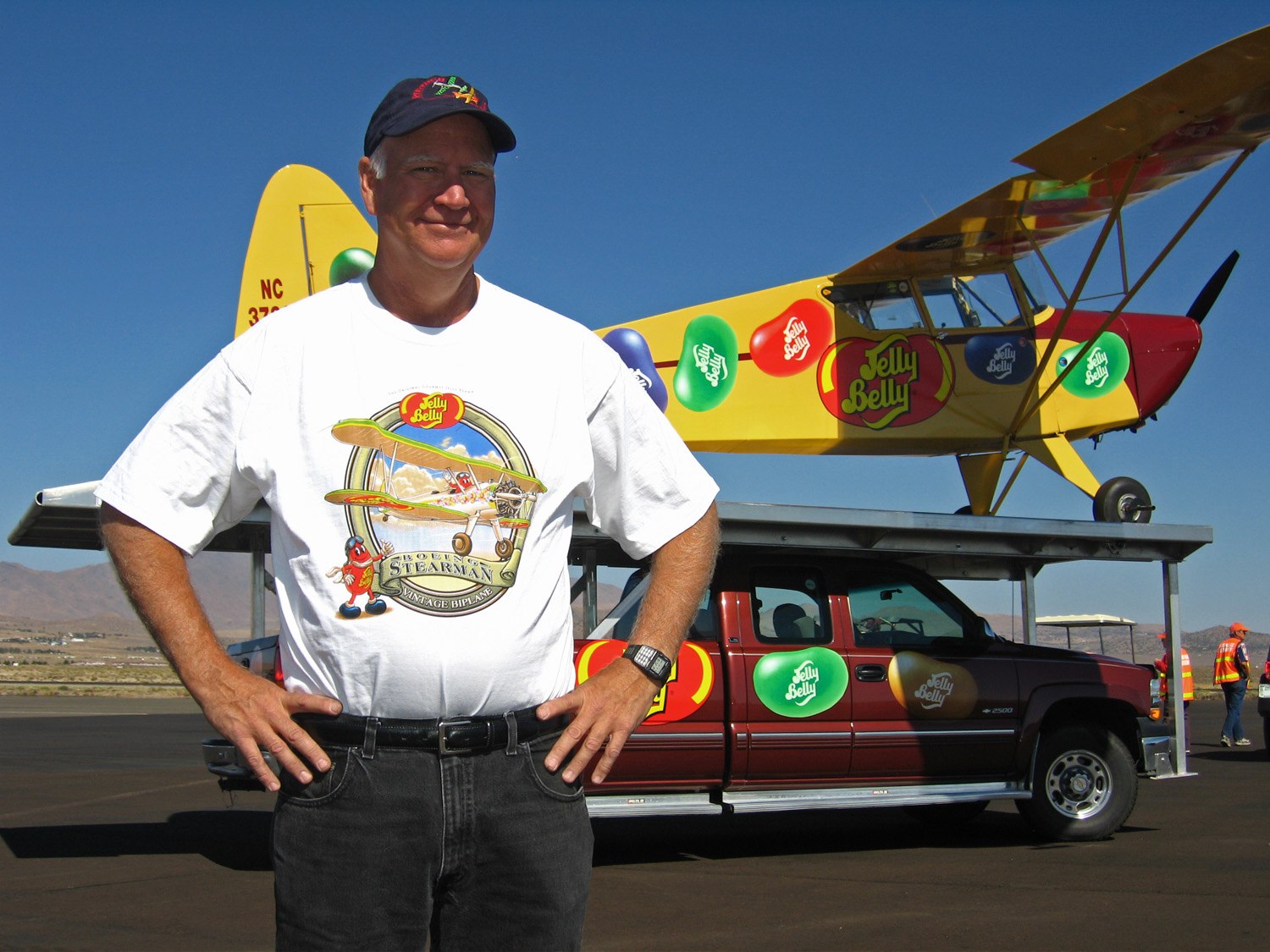 Kent Pietsch was just four years old when he fell in love with flying.
Now, over five decades later Kent has taken his love for flying and developed it into one of the premier aerobatic shows in the U.S.
Since 1973 he's performed at more than 400 airshows thrilling millions of people in the process.
You just have to see what this man does with his 800 pound Interstate Cadet. I did at this year's (2016) Syracuse airshow.
Kent Pietsch talked with us about his act.
Q - I want to first talk about your sponsor.
A – Sure.
Q - The Jelly Belly Candy Company I've never heard of them. Is that something you can buy in a grocery store?
A - You sure can. They're a worldwide company. The original gourmet jelly bean is what it is. They've been in business for a long time. As a matter of fact, if you remember Ronald Reagan, he had them in the Oval Office when Mikhail Gorbachev came over. They had them for the 23 heads of state when they ended the Cold War. They each had a little crystal cup of jelly bellies. Then Sally Ride had them when she was in the spaceship Columbia. But, they're very popular. They're good jelly beans. They also made the Harry Potter ones. I don't know if you know about that.
Q – I had no idea about that. I know Ronald Reagan liked jellybeans. I didn't know much about the Jelly Belly Candy Company.
A - It's a family run business. I come from the same kind of business. I have a family flying service. There are not on Wall Street. They're just a regular old business, a United States business.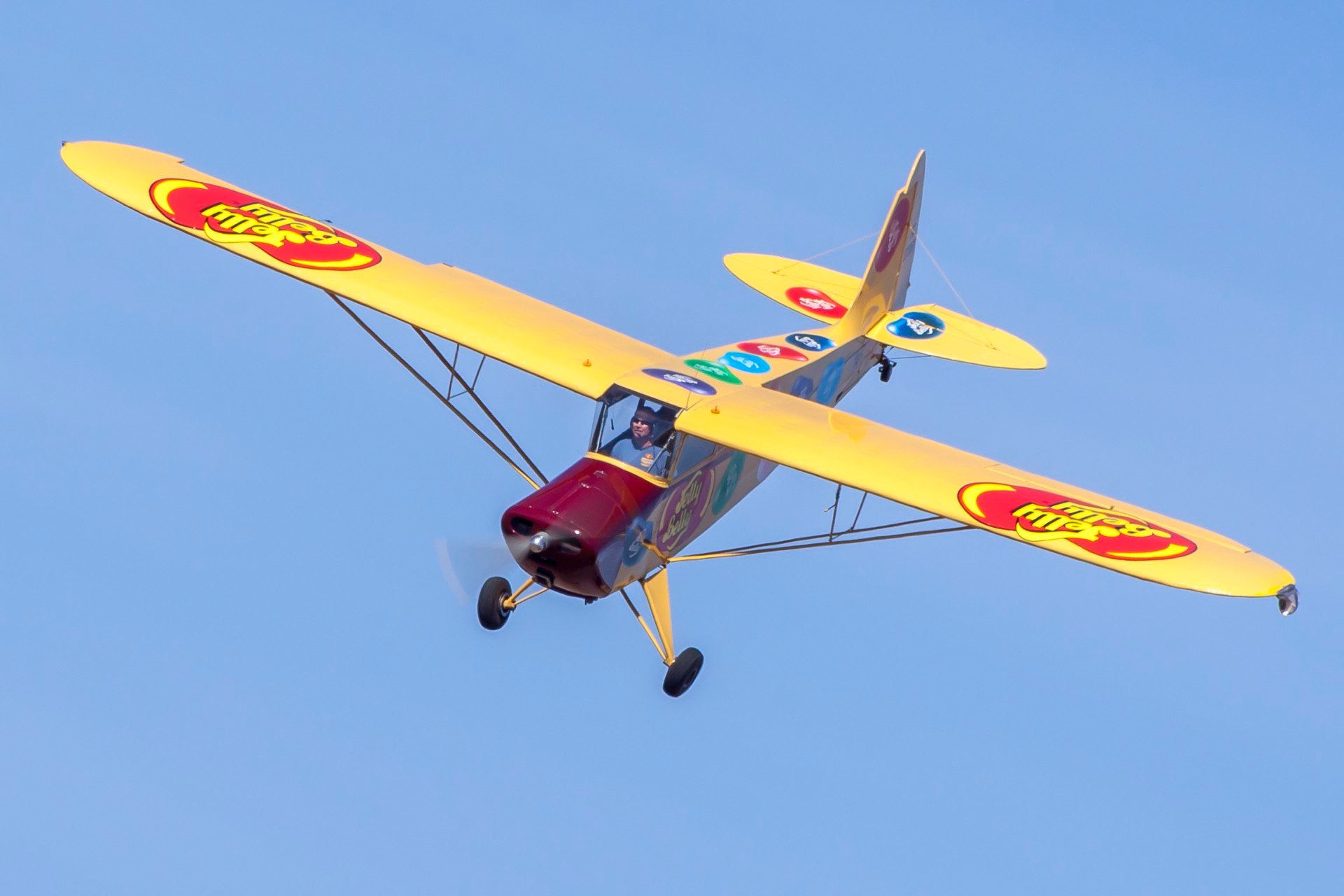 Q - Did they seek you out or did you seek them out?
A - Well, at first I did some shows out in California and they saw me and talked to a friend of mine, Wayne Hanley. Wayne and I talked about a price that would be right and they talk to him first. Then Wayne talked to me. I didn't know what I was doing when it comes to sponsors because I never go and ask for them. I kind of gave him a price and never heard from them. Then about another year or two later, I was flying the Reno Airshow out in Reno, Nevada and they came up to me and said, we need to talk. I said, that wouldn't hurt, and ended up being friends and I'm working for a really good company.
Q - Didn't you work for a major airline?
A - Yeah. I actually started flying in 1967. I soloed in 1967 at 16 years old. I got my pilot's license at 17. I got my commercial license at 18. I started flying Air Ambulance, charter, and a little bit of spraying, until I got to be 27 years old in 1988. I got hired by North Central Airlines witch is a fantastic airline and ended up with a merger with Southern Hughes air West which ended up being Republic Airlines as I worked for them. I can't remember when the merger was with Republic and Northwest, but I ended up being a Northwest pilot until 2007. I retired early. I had 28 years of working there and I was still doing the airshows since 1973 till now.
Q - How long did it take you to familiarize yourself with the plane are flying now?
A - Well, I bought this plane in 1973 from my uncle Leonard and I've been flying it ever since. When I first started flying I had to practice quite a bit. I still do practice. Every weekend we practice the day before and I also practice in – between. I just want to keep my hand in it so you never feel like you don't know what you're doing with it. So, there was a lot of practice involved in what I'm doing because I'm next to the ground and I'm scraping wings on the ground and dropping stuff off the airplane which is kind of unusual and then the other act I do is shut the engine off at 6000 feet high, over a mile high and do aerobatics with without any power down to the ground and then I come to a stop and put the prop in the announcers hand. And then the other one is landing on top of the RV. So, that stuff you got a keep up on in practice.
Q - Do you have some kind of backup plan should something go wrong with that plane?
A – No. I'm doing my aerobatics too low to the ground I wouldn't be able to bail out so I don't have a parachute. If you're flying alone you don't need a parachute. If you're taking somebody up, you should have a parachute for both of you. If you're going to do aerobatics not if you're doing normal flying. I'm the mechanic. I'm the guy that keeps the airplane safe. That's my backup plan. It's been working pretty good.
Q - So, you don't have a mechanic traveling with you?
A - No. I'm it. I have all the ratings.
Q - How many people travel with you?
A - I have a guy driving the RV for me, or the pickup that I land on. I have them and they travel with me. And they are mechanic types too. So, were both working on it all the time. But I'm the overseer. I have in A and P which means Airframe and Power Plant License with inspection authorization so I can inspect what other people do and sign off on it.
Q - Are there other people out there doing what you're doing with that plane you fly?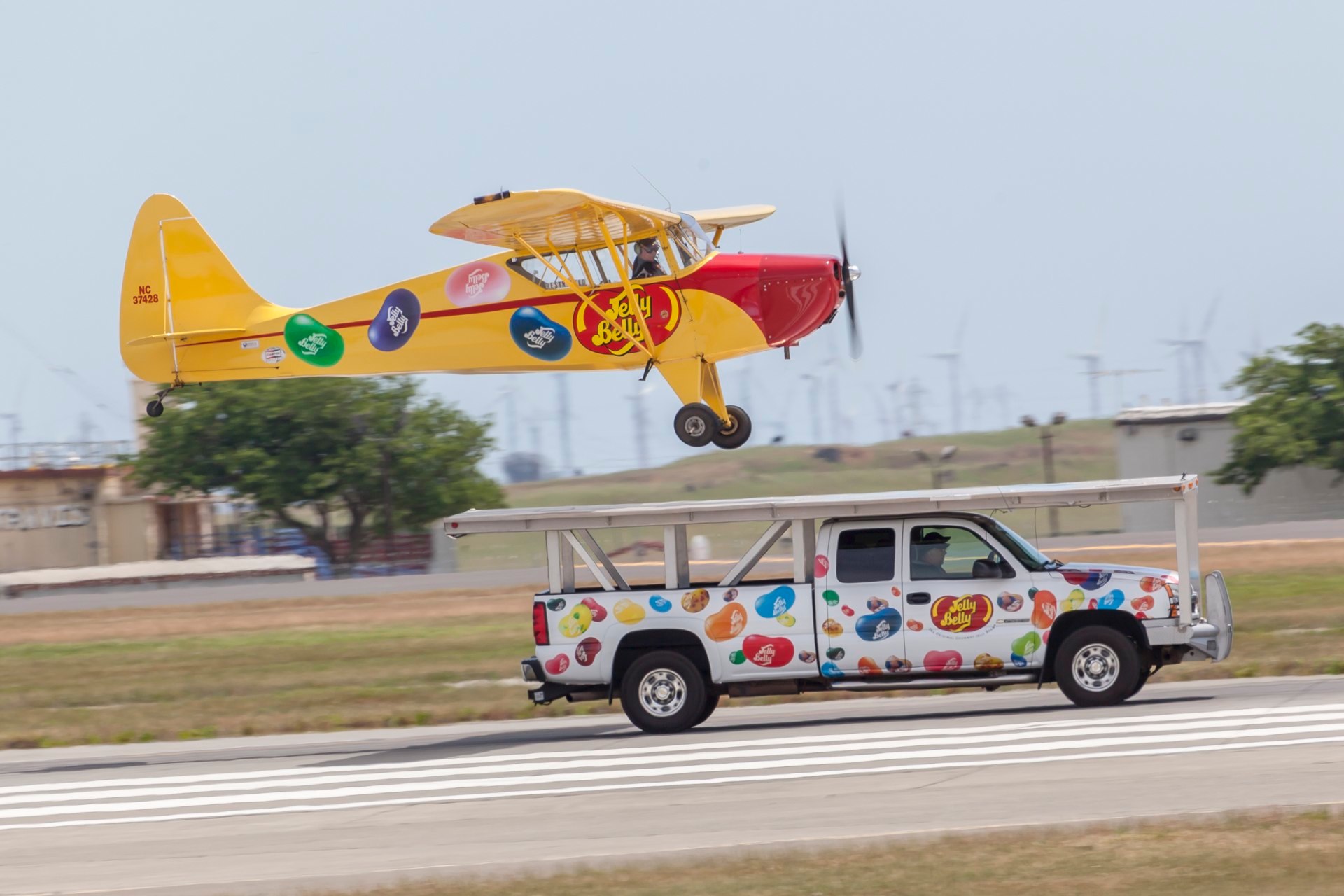 A - Not too many, no. There is another guy landing on a truck, a couple of them, but, not too many of them , No. Nobody's dropping the aileron. I'm the only one dropping the major control off and the reason I do that is when I was flying air ambulance and charter I was in like a Mooney, a little retractable airplane that goes 180 miles an hour with four people in it. So, when you're doing that they're sitting right next to you and you notice there are some people kind of nervous about flying because they don't understand the concept which is the wings make it fly not the engine. When I shut the engine off and do the dead stick aerobatics it's called dead stick because back in the day they were made of wood, the props went dead would mean you shut the engine off and it stopped. So, I do that because people are always worried about an engine quitting. I do that to show them airplanes can land and fly, without power and land, just like a glider. It's the wings that do it. That doesn't matter if it's in A320 or what I have, which is a plane to land. Of course the A320 is going to be moving faster because there's more weight to it. But, I was a A320 Capt. so I would talk to people when they got off the jet way and this is what I do, if they were nervous. That seemed to help. That's the reason I did it when I had people with me. I'd show them you can actually shut the engine off and land within an inch of where you want to be. The airplane has that redundancy. That's the same thing with dropping the aileron, they were worried about a piece falling off the airplane and plummeting into the ground. I lose one of the ailerons, I actually fly with one of them. That's just to show the redundancy of the airplanes.
Q - How many airshows do you perform in, in a year?
A - I had 26 this year (2016)
Q - That's pretty good isn't it?
A - Yeah. It's a half a year of flying shows, 26 different sites.
Official website: www.kentpietschairshows.com
© Gary James All Rights Reserved