Liz Goldwyn Interview
(Pretty Things, The Last Generation Of American Burlesque Queens)
The title of Liz Goldwyn's book pretty much says it all.
She's written a truly unique account on the history of Burlesque.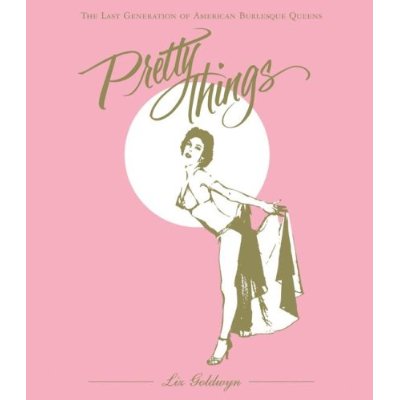 Q – Liz, this is some book you've put together! I've never seen anything like it before.
A – Thank-you.
Q – How did you manage to get the cooperation of as many dancers as you did?
A – I started writing personal letters to the dancers who wore the costumes I was collecting, and in general, was pen pals for up to a year before I met some of them in person. Building trust is always key in any relationship and I approached them from a genuine place of wanting to learn about their craft. From there, it was a chain effect of one person leading me to another.
Q – How long did it take you to put this book together?
A – Ten years.
Q – Why do you think there is this continual fascination with strippers?
A – Our culture has a very strange relationship to sexuality. We are o.k. with overt displays of sex on t.v., the Internet and films, but not with discussing it. Everyone is curious about sex, about the thrill of a peek of flesh. Burlesque, strip-tease continually fills that curiosity, offering a hint of tease in an old-fashioned way, because we don't see it all!
Q – Would Burlesque work today or are audiences just too impatient?
A – Neo-Burlesque is quite popular but it is only focused pm the strip-tease. True Burlesque, like vaudeville and silent movies had it's place and time, though it's roots, comedic satire, is seen now on shows like 'Saturday Night Live'.
Q – What city had the most Burlesque dancers? Any idea?
A – Every metropolitan city had a scene, Los Angeles, New York, Baltimore.
Q – What, if any common trait did you find all of these women in your book share?
A – I think it's different to generalize. The women were all performing artists and every performer has a different tale to tell.
Q – Did you do book tours to support "Pretty Things"?
A – Yes, extensively in America, Europe and Japan.
Q – You also released a film "Pretty Things"? Where did that play?
A – "Pretty Things" aired on HBO from June 2005 to July 2007 and on CBC, in Canada, from January 2006 to January 2007. It has also been screened in museums across America and Japan. I haven't yet released the DVD-----but, I am working on it!
Q – As part of your research for this book, did you ever take to the stage?
A – Yes. In my film, I 'become a burlesque queen. I felt that it was important for me to walk in their shoes' in order to truly understand the art form. The craft of creating an act is a complicated process which involves choreography, orchestration, costume and character all of which is so much more than just taking off your clothes. This is what separates the great Burlesque Queens from strippers at contemporary nightclubs. It's an entirely different context. Burlesque was a performing art like Vaudeville.

Q – With cable t.v., DVD's, have the gentlemen's clubs seen a downturn in their business?
A – My research is into Burlesque not contemporary Gentlemen's clubs. But, I don't think that seeing 'live' nude girls has lost its thrill. It's still pretty fun and actually the top Porn stars make a lot of money appearing at clubs so their fans can see them in the flesh. There will always be a market for the 'live' experience. I don't think watching women disrobe will ever get old!
© Gary James All Rights Reserved