Matraca Berg Interview
(Singer/Songwriter)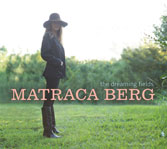 When Matraca (pronounced Muh-tray-suh) Berg was only 18, she co-wrote the song "Faking Love" which took Karen Brooks and T.G. Sheppard to the top of the charts. Just recently she was a Grammy nominee for Reba McEntire's number one song — "The Last One To Know." The daughter of the late Icee Berg (an established Nashville session singer and songwriter), Matraca, at age 26, has released her debut album on R.C.A. Records. Titled "Lying ToThe Moon," we spoke with Matraca Berg about her life in music.
Q. You're going to be out on the road soon with Clint Black. Are you worried at all, or are you concerned that you might not be given the reception you deserve, that the people will be there to see Clint Black.
A. I ain't too worried about that. Yeah, you're gonna have people out there who are there to see Clint or Merle Haggard, and are gonna be indifferent to you. You're gonna have people who came out early to see you, and your responsibility is to them. If there are people there who are into you, your responsibility is to give them a show, even if it's five out of two thousand. That doesn't bother me. I've opened for Roger McGuinn (ex-Byrds member) in Kansas City just a couple of weeks ago. There were definitely some rude people in the back, you know, just waiting for Roger. But there were a handful of people in the front; they were just hanging on every word I sang. So, I just concentrated on those people.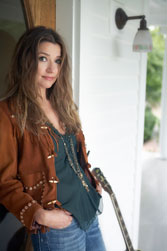 Q. According to your record company bio — "Every now and then, a new act crests the horizon who is quite simply a total artist. They write well, sing with exceptional feel and have an attitude that immediately sets them apart from the pack." What is this "attitude" you have that sets you apart from the pack?
A, Probably a bad attitude. (Laughs) I didn't write that thing. The attitude is just real. It's realistic. It's not pie-in-the-sky. It's not terribly positive. The next album will be a little more positive. Because I am an artist I can only represent myself through what I'm feeling at the time, or what I'm observing. I can't manufacture a feeling for any body, I'm sorry. I just don't work that way. At the time, that's where I was coming from. It's just as simple as that.
Q. You were pretty much destined to do what you're doing. Did you ever consider another career?
A. Not really. I did consider journalism at one point. I don't know. I just started writing these songs. I got a break real fast.
Q. At 18.
A. 17, actually. It's something I've always done, and it's pretty much all I can do.
Q. When you write a song, will you tailor it for a certain singer?
A. Some people can write that way, but I've never been able to pull it off, directing it towards somebody. I basically just write what's going on at the time, and if it happens to fit somebody, fine.
Official Website:www.matracaberg.com
© Gary James All Rights Reserved