Matt Younkin Interview
(Younkin Airshows)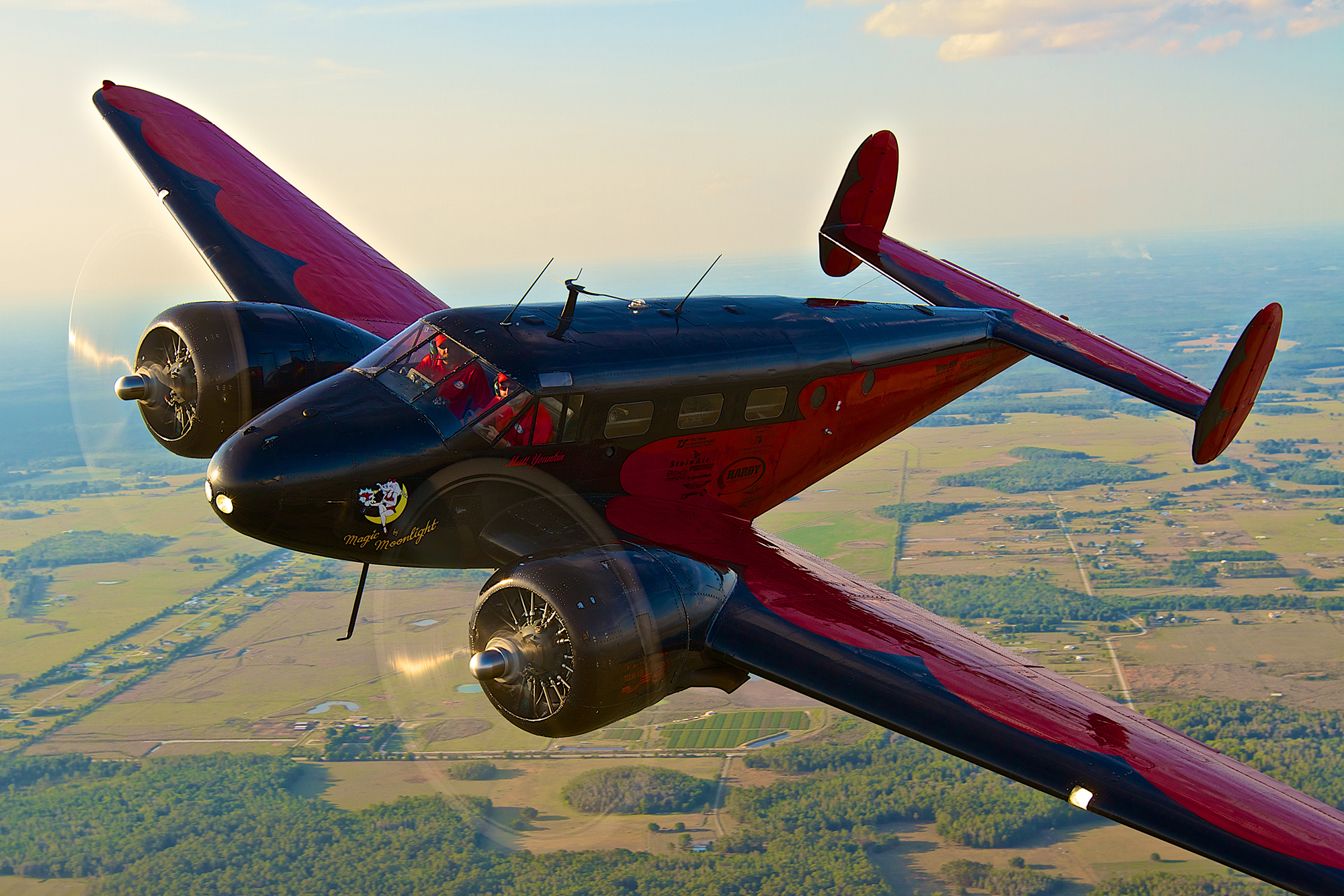 Matt Younkin is a third-generation pilot. He is the son of legendary airshow pilot Bobby Younkin. Bobby is considered to be one of the greatest airshow pilots of all time.
Matt is also the grandson of Jim Younkin who is well known for designing the Century and Trutrak autopilots. Jim is also famous for his antique aircraft restorations as well as building replicas of the 1930s air racers such as The Howard "Mr. Mulligan" and the Travel Air "Mystery Ship".
Matt learned to fly at the age of 14. On his 16th birthday he soloed his grandfather's 1928 Travel Air 4000 biplane.
Matt is now proficient in over 80 types of airplanes ranging from the Piper Cub to the North American B-29.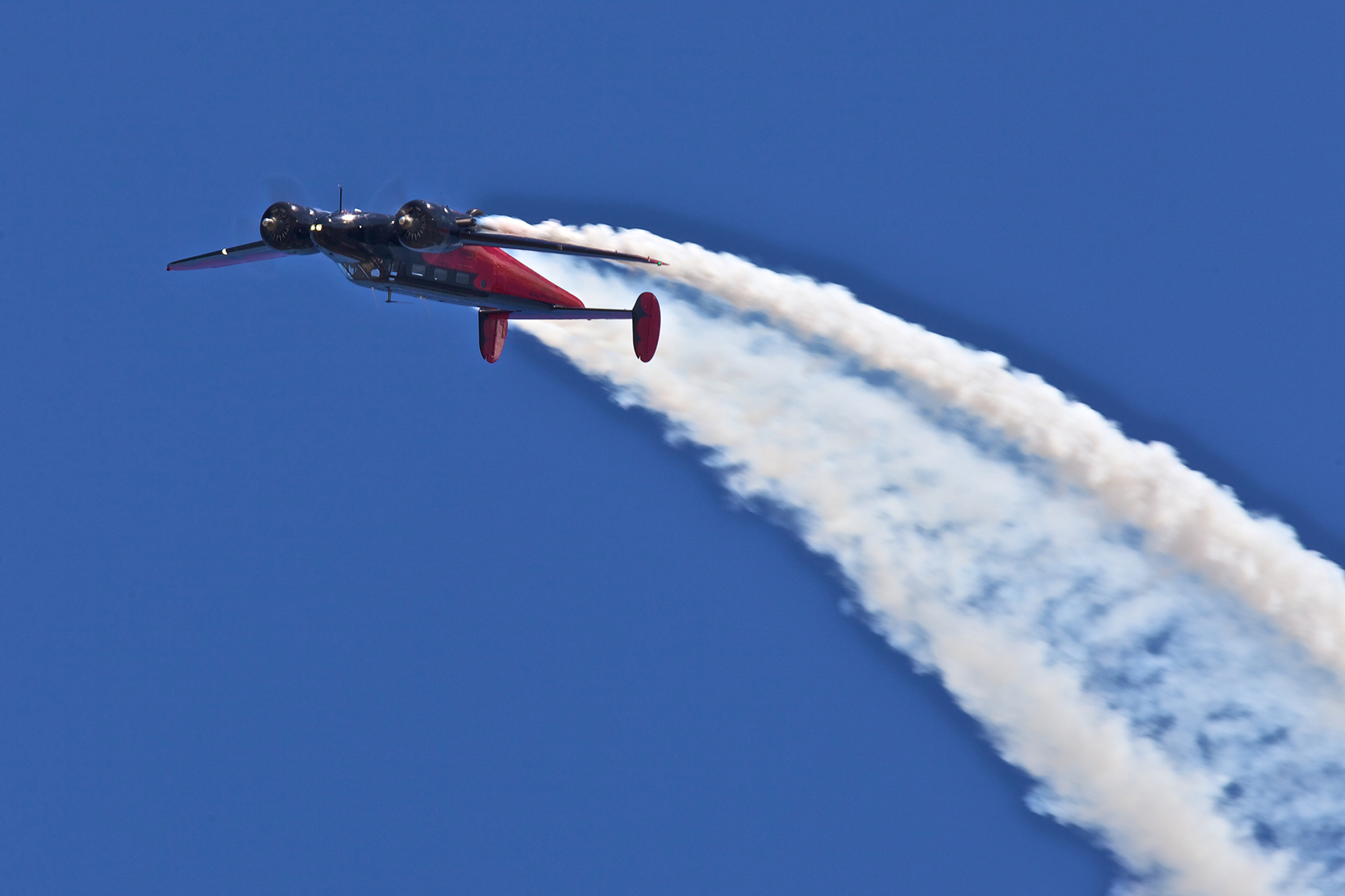 He is fully rated flight instructor with over 4000 hours of flying time.
We spoke with Matt about his airshow.
Q - Matt, your father used to say "an airshow act must be unique and original to be successful." I would agree with that. But, they're just so many maneuvers you can do with the Beech 18 your flying?
A - Well, the Beech 18 is not designed for aerobatics. That's what makes it unique and original.
Q - What you do with this plane of yours is almost like a bullet in the sky. So often we'll hear background music from "top gun" being played for airshow performers. What kind of music do you have playing as you're going through your routine?
A - We have a special soundtrack that complements the airplane very well.
Q - I was thinking of maybe "Swan Lake".
A - (Laughs). We start out with the Pink Elephants music from Dumbo which kind of capitalizes on an obese airplane trying to muster up the energy enough to do an aerobatic maneuver. Then in the middle of the routine is more of a ballet and we have a special song use for that as well.
Q - Matt, even though airshows are gaining popularity throughout the US and the world really, they have yet to peak. Would you agree with that?
There's always room for improvement. There's always room for new ideas and new techniques and new acts. It's an evolving industry. It's just like everything else.
Q - How many people does it take to get your act off the ground?
A - Well it depends on the location. There is myself, Olivia, who you spoke with (Matt's publicist), and I have a full-time mechanic that keeps the plane up and running. I'd say a minimum of three of us to make it work.
Q - Speaking of work, is there enough work to keep you busy throughout the airshow season?
A - There is. There are a lot of airshows out there. Olivia does an excellent job of marketing my act. The act is unique and original it is in contrast to just about everything else out there. So it makes a good ad for a lot of airshows.
Q - Because your father was a pilot does that mean it was easier for you to become a pilot?
A- Well, not necessarily. There is a certain skill set that's required for doing the demonstration and it's something you have to learn. It's not necessarily harder or easier based on your lineage.
Q - Do people have a hard time believing that planes looked like yours in aviation history?
A - There were a lot of airplanes that look like that when my airplane was built. There's not that many anymore, but, for the time it was designed it was state-of-the-art. It looks like a regular airplane to me. Of course, I grew up with old airplanes. But, it is unique in the way it looks compared to some of the other airplanes, but, that's also why they come to airshows, to see airplanes they don't see in airports around the country.
Q - If there were no airshows, what would happen to those old planes? That guys like you fly? Would they only be seen in museums? Would they be scrapped?
A - There is a lot of collectors out there that would acquire them. A lot of them would be in museums. I would say the majority of the ones that are going to be scrapped have already been scrapped by now. So, the old vintage airplanes especially if they've made it this long in their life, they're going to make it for a very long time.
© Gary James All Rights Reserved